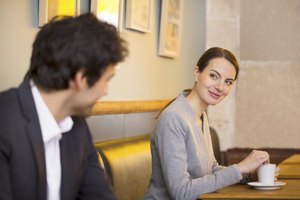 For some, it's easy to approach a beautiful woman. For others, it can be quite nerve-racking. Whether you're confident or shy, outgoing or an introvert, the key is to remember that, although most people do tend to notice appearances first, beauty is only skin deep — and that representing yourself in an open, honest manner is the best way to start any relationship.
Instructions
1. 

Be confident, but not cocky. The fear of rejection can be strong, but it's something you have to try to fight. Remember that women are usually flattered when a man approaches and compliments them.

2. 

Have an opening line ready, but not anything smarmy. A simple compliment, such as, "Your smile lights up the room," or "That scarf makes your beautiful eyes shine," is best.

3. Look her in the eyes and smile. Don't let your eyes drift anywhere else, and if she is with friends — as many women are when they go out — smile at each one and introduce yourself.

4. Be prepared to converse. Sometimes, the conversation stalls after the opening line. Having something to talk about that goes beyond the weather or where she is from will go a long way in getting her interest. Try asking her how her night is going, or how her week has been.

5. Ask her for her information, if things progress well, but consider asking for an email rather than a phone number. Some women might find that less threatening.